TO: New Majority Members
FR: Michael K. Hayde, Chairman
RE: September Monthly Update
New Member – Thank You Sponsor
September Event Recap
October Reminders
Calendar of Events
 Save-the-Date
Calendar of Events
New Members – Thank You Sponsors
Robert Van Schoonenberg – Sponsor Norm Metcalfe
George L. Argyros, Jr. – Sponsor Ambassador George L. Argyros
Don DiCostanzo – Sponsor Richard Reisman
Mike and Cynthia Malone – Sponsor Tom Tucker
September Event Recap
Joint Political Affairs and Issues Committee Meeting, Sept. 14th
This month, we met with Political Director Tom Ross for a very informative meeting regarding ALL 17 ballot measures facing California voters this November. There are a number of hot button issues this election year, and after much review and discussion, the Committee made the following recommendations:
SUPPORT: Prop. 54 (Legislative Transparency) – Requires a bill to be in print and published online for 72 hours before the Legislature can vote on it.
OPPOSE: Prop. 55 (Prop. 30 Income Tax Extension) – Would extend the temporary personal income taxes by 12 years. Prop. 57 (Repeal of Prison Sentencing) – Would allow for prisoners convicted of nonviolent felonies to be given early release. Prop. 59 (Advisory Vote on Citizens United) – Would ask voters whether there should be a federal constitutional amendment to overturn the ruling in Citizens United vs. Federal Election Commission. Prop. 67 (Bag Tax) –Would ban plastic bags and places a 10 cent tax on paper bags that goes to grocers. Prop. 65 (Redirects Bag Tax to Environment) – Would redirect bag tax to the Wildlife Conservation Board to support environmental projects.
***We are currently working to finalize our NMOC Voter Guide and should have that to you within the next few days!
October Reminders
First Presidential Debate Watching Party, Sept. 26th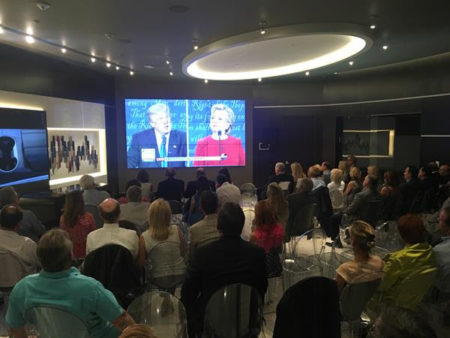 What a spectacular event at the Lincoln Experience Center. Hillary Clinton and Donald Trump went head to head for the first presidential debate, and members received quite the experience. It was a very fun night filled with great friends and good food! Thank you to everyone would could join us! See photo.
October Reminders
Joint Political Affairs and Issues Committee Meeting, Oct. 5th
Our next joint Issues and Political Affairs meeting will be this Wednesday, October 5th. Come participate in the conversation as Senate Republican Leader Jean Fuller and Assembly Republican Leader Chad Mayes join us to discuss the leaderships' priorities for the remainder of this election year. This will be a crucial and important meeting to attend as we look to win in November.
New Majority Presidential Series Grand Finale with the Honorable Newt Gingrich, Oct. 19th
You're invited to our exclusive members only "Grand Finale" event with former Speaker Newt Gingrich on Wednesday, October 19th. As this is the night of the final presidential debate, we have the exclusive opportunity to not only have dinner with Newt, but to also watch the debate with him! Even better, once the debate concludes we will have a recap discussion! Please remember that prior to dinner, there will be a book signing and photo opportunity with Callista and Speaker Gingrich.
Truly, this is an amazing night you will not want to miss!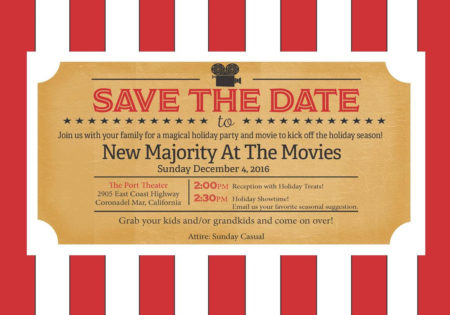 Calendar of Events
October 5th        Executive Committee Call
October 5th        Joint Political Affairs and Issues Committee Meeting
October 19th      Presidential Series Grand Finale with the Honorable Newt Gingrich
October 21st      Membership Committee Luncheon