TO: New Majority Members
FR: Michael K. Hayde, Chairman
RE: March/April 2016 Monthly Update
Political Affairs Meeting
Board of Directors Meeting
Conversation with Hugh Hewitt and Doug Schoen
Special Luncheon with Joel Kotkin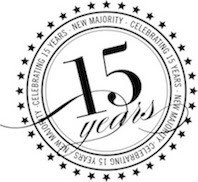 Political Affairs Meeting
In March, we met with Jon Coupal, President of the Howard Jarvis Taxpayers Association, and Senator John Moorlach (37th District).
During the meeting, Coupal said the most important thing that New Majority can work on is protecting the 1/3rd GOP margin in the Legislature. He then proceeded to share his thoughts on this year's ballot initiatives. It was a very informative session as voters are expected to face between 15-20 ballot measures this November.
Senator Moorlach addressed his re-election plans. Moorlach discussed a bill he has introduced that would create savings at Cal-Trans and in other areas. Moorlach has established himself as a leading taxpayer advocate and conservative budget hawk, and members were very impressed with what he's done in Orange County and Sacramento.
The Political Affairs Committee made a recommendation to the Board of Directors that they support and endorse Senator Moorlach in his race.
Board of Directors Meeting
At the March 23rd meeting, upon a motion made and seconded, the Board of Directors unanimously voted to:
Endorse Senator John Moorlach's re-election to the 37th District and contribute the amount of $4,200 to his campaign.
Endorse Clint Olivier for Assembly and give a maximum contribution of $4,200 to his campaign. Olivier is a Republican candidate running in the 31st District special election for a Fresno area seat that could be critical towards Republicans maintaining their margins in the Legislature.
Conversation with Hugh Hewitt and Doug Schoen
The 2016 election is fast approaching. Join the conversation as we host Hugh Hewitt and Doug Schoen on Thursday, April 14th at the Pacific Club (11:30 a.m. Registration/12:00 p.m. Sharp! Lunch). We will discuss where we go from here as the June Primary approaches.
Hugh Hewitt is a lawyer, law professor and broadcast journalist. He has been a frequent guest on CNN, Fox News, and MSNBC, and has written for New York Times, Wall Street Journal, and Los Angeles Times.
Doug Schoen has been one of the most influential Democratic campaign consultants for over thirty years. He is widely recognized as one of the co-inventors of overnight polling. Schoen is the author of multiple books, and is a regular contributor to the Fox News, Wall Street Journal, Washington Post and various other newspaper and online publications.
Special Luncheon with Joel Kotkin
Save the date for another great event! We invite you join us on Tuesday, May 17th at the Island Hotel, 12:00 p.m., for a special luncheon with Joel Kotkin.
Joel Kotkin described by the New York Times as "America's uber-geographer," is an internationally-recognized authority on global, economic, political and social trends. He is the author of seven previously published books, and has published reports on topics ranging from the future of class in global cities to the places with the best opportunities for minorities.
For more information or to RSVP to any of the events above, contact Kally at [email protected] or call 714-481-5102.