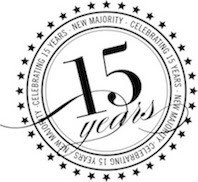 TO: New Majority Members
FR: Michael K. Hayde, Chairman
RE: April Monthly Update
Conversation with Hugh Hewitt and Doug Schoen
Issues Committee Luncheon with Senator Sununu
Save the Dates!
Events Calendar
New Member – Thank You Sponsor!
Bill Skeffington – Sponsor Steve Craig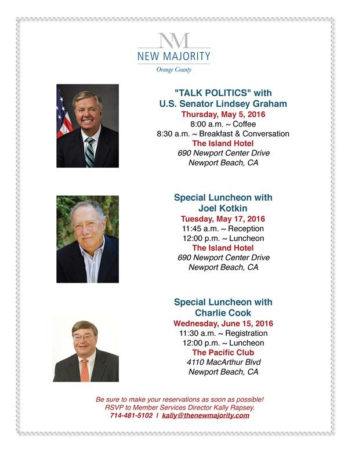 Conversation with Hugh Hewitt and Doug Schoen
As the 2016 election is fast approaching, we were honored to have Hugh Hewitt and Doug Schoen visit on Thursday, April 14th. Both guests are frequent contributors to Fox News, Wall Street Journal, and other various newspapers, and our members had a great time hearing their insight about the upcoming June Primary and presidential election.
Issues Committee Luncheon with Senator Sununu
Last week, the Board of Directors and Issues Committee hosted former United States Senator from New Hampshire, Senator John Sununu. Sununu discussed the history of elections, contested conventions and gave members an outlook on what could happen at the upcoming RNC convention this summer in Ohio.
Save the Dates!
Breakfast with Senator Graham, May 5th
Please join us for a special breakfast with Senator Lindsey Graham on Thursday, May 5th, at the Island Hotel. The Senator will provide insight on the priorities of the U.S. Senate for the remainder of the year, the chances of Republicans retaining control of the Senate, his experience running as a presidential candidate and much more.
Political Affairs Meeting with Dino Cortopassi and Fred Whitaker, May 11th
Mr. Cortopassi will speak to us about the water issue in California and will also demonstrate how to store a significiant amount of water in a hurry with his "drought busters" presentation.
Luncheon with Joel Kotkin, May 17th
We invite you to join us on Tuesday, May 17th at the Island Hotel, 12:00 p.m., for a special luncheon with Joel Kotkin. Joel Kotkin described by the New York Times as "America's uber-geographer," is an internationally-recognized authority on global, economic, political and social trends. He is the author of seven previously published books, and has published reports on topics ranging from the future of class in global cities to the places with the best opportunities for minorities.
Luncheon with Charlie Cook, June 15th
On Wednesday, June 15th, join us as we host one of the nation's leading authorities on American Politics and U.S. Elections, Charlie Cook, at the Pacific Club. Cook is Editor and Publisher of the Cook Political Report and is a political analyst for National Journal magazine.
For more information or to RSVP to any of the events above,
contact Wendy Hales or Kally Rapsey at
[email protected] or call 714-481-5102.
Events Calendar
May 5th        Breakfast with Senator Lindsey Graham
May 11th      Political Affairs Meeting with Dino Cortopassi and Fred Whitaker
May 17th      Special Luncheon with Joel Kotkin
May 18th      Board of Directors Meeting
June 15th     Special Luncheon with Charlie Cook