Luncheon with Arizona's Senator Jeff Flake

April 17, 2017 @ 11:45 am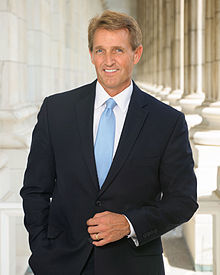 Registrations are closed for this event
PLEASE JOIN US ON MONDAY, APRIL 17TH FOR A SPECIAL LUNCHEON WITH ARIZONA'S
UNITED STATES SENATOR
JEFF FLAKE
Monday, April 17, 2017
11:45 a.m. Registration
12:00 p.m. Lunch
Senator Jeff Flake is a fifth-generation Arizonan raised on a cattle ranch in Snowflake, Arizona; named in part after his great-great grandfather.
As a member of the U.S. Senate, Flake sits on the Judiciary Committee, The Energy and Natural Resources Committee and Foreign Relations Committee.
After serving a Mormon mission in southern Africa, Jeff graduated from Brigham Young University, where he received a B.A. in International Relations and an M.A. in Political Science. In 1987, Jeff started his career at a Washington, D.C. public affairs firm, but soon returned to Africa as Executive Director of the Foundation for Democracy in Namibia. In this role, Senator Flake helped monitor Namibia's independence process and saw that nation usher in freedom and democracy.
In 1992, Senator Flake and his family moved back to Arizona where he was named Executive Director of the Goldwater Institute. In this role, Jeff worked to promote a conservative philosophy of less government, more freedom, and individual responsibility.
Senator Jeff Flake is up for re-election next year and Democrats are already targeting his seat. Come hear about his re-election plans, experience in the U.S. Senate and thoughts on our Nation's Political Climate.
To make your reservation please call Kally Rapsey at 949-339-2770 or email [email protected].